Kristie Rosser, Optimal Wellness
I'm Kristie Rosser — Married Mamma with 4 awesome, busy kids,
Marathon runner, Endurance athlete, Entrepreneur
and Lover of clean whole food.
I believe that we only have one life to live and that we should live it optimally.
I have worked in a vast variety of health care settings for more that 25 years.
During this time, I have seen disease, unhealthy lifestyles, unhealthy aging, and poor life choices close-up.
After 4 babies in six years (all C-sections), while working full-time, a 70+ pound pregnancy weight gain with each child (true story—and yes, yikes!), I developed a struggling adrenal system resulting in chronic fatigue, constant brain fog, a failing thyroid, weight loss resistance, food allergies, worsening seasonal allergies, and eczema. That coupled with the aging hormonal changes that naturally occur beginning at 35 years old and beyond, all resulted in a lack of "umph" = lack of enjoyment to my life= I was seriously bummed.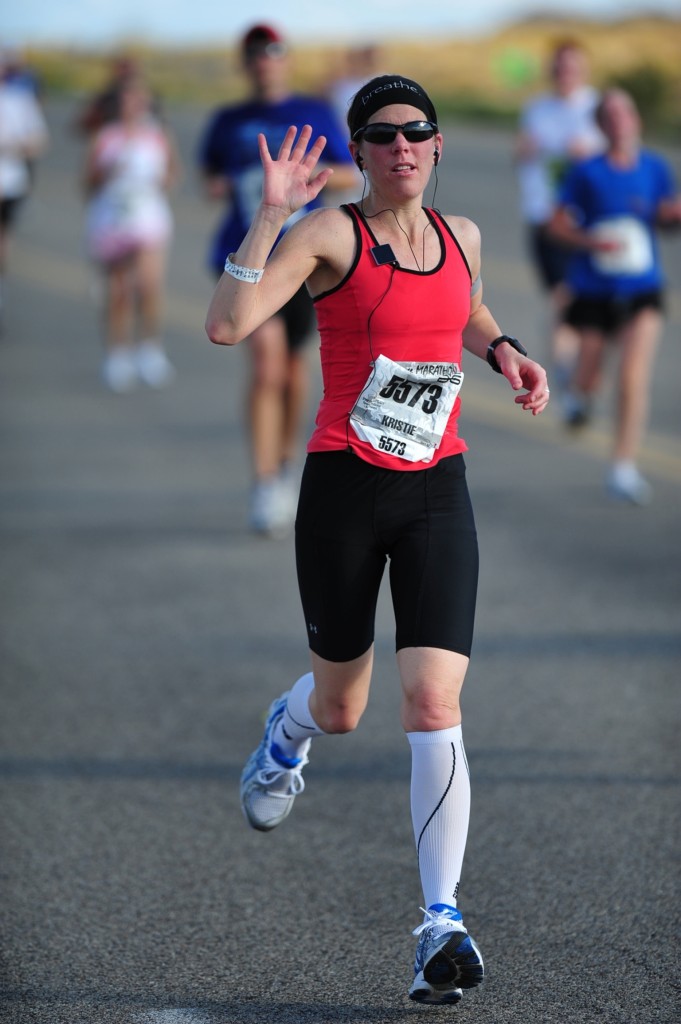 I had gone from a high-functioning amazing high milege running woman, to feeling tired all the time.
Bottom line:
It was time for a change.
I was ready to find my balance and reclaim my life.
I decided to design and live a healthier, balanced, more optimal life.
So, I made a decision to get far away from disease -– both professionally and personally.
I left the traditional disease-based medical profession (which included leaving the security of a high-paying job), and started my entrepreneureal journey into opening my very own holistic wellness practice.
I furthered my holistic education, primarily as an effort to learn how to heal my own body since traditional medicine didn't offer solutions that made sense to me.
Throughout my education, I have been exposed to the most cutting-edge hormone therapy, age management, nutrition, lifestyle, detox, and dietary theories, and studied highly effective coaching techniques to help you find the right life-balance that works best for you. My wellness practice has evolved to incorporate what I know works to help my patients find life-balance and live their optimal lives.
Most importantly, I have learned through my own experience that in order to be well, you must live a life of complete balance. This balance includes: stress, sleep, hormones (thyroid and adrenal, too), nutrition, emotional/spiritual, and relationships. Once I figured out where I was out of balance and corrected it, I got my life back. My energy returned, my body weight balanced, and I began to train for marathons again.
In a nutshell, I help you unlock your inner power to heal. I help busy people find their life-balance.
It's time to become a priority in your life.
Take your health to the next level—the optimal level.
---
My background as a Certified Family Nurse Practitioner with 25 years of experience in the medical field, combined with my Holistic Health Coach, Nutritional Therapist and Detox Specialist Degrees have enabled me to view health and wellness in a unique way.
My additional certifications in Age Management Medicine and Bio-Identical Hormone Replacement Therapy allow me to help my patients in a more complete and foundational way to enable them to age well and enjoy an exceptional quality of life.
My personal health experiences and journey to wellness allow me a unique perspective in understanding the healing process and wellness potential our bodies hold.
Degrees & Certifications:
BS-Nursing, RN, University of Utah, 1994
MS-Nursing, Family Nurse Practitioner, Brigham Young University, 1999
FNP-C, APRN Certification American Academy of Nurse Practitioners, 1999
Age Management Certification, AMMG, 2012
Holistic Health Coach Certification, IIN 2013*
BHRT Certification, World Link Medical, 2014
Hormone Cure-Certified, 2014
Nutritional Therapist-Certified, 2015
Detox Specialist-Certified, 2015
Certified Holistic Health Coach
I also graduated from the Institute for Integrative Nutrition where I learned innovative coaching methods, practical lifestyle management techniques, and over 100 dietary theories; everything from Ayurveda, gluten-free, and Paleo, to raw, vegan, and macrobiotics, and everything in between.
At the Institute for Integrative Nutrition, I studied a variety of dietary theories and practical lifestyle coaching methods. With my knowledge, we co-create completely personalized a treatment plan based on your goals to move you toward your ideal vision of health within your unique body, lifestyle, preferences, and resources.
My education has equipped me with extensive, cutting-edge knowledge in holistic nutrition, health coaching, and prevention. Drawing on my expertise, I work with clients like you to help make lifestyle changes and choose health-promoting ways that produce real and lasting results. You will develop a deeper understanding of food and lifestyle choices that work best for you, improving your energy, balance, health, and happiness.
I studied with the world's top health and wellness experts including:
Joshua Rosenthal, founder and director of the Institute for Integrative Nutrition
Dr. Andrew Weil, director of the Arizona Center for Integrative Medicine
Deepak Chopra, MD, leader in the field of mind-body medicine
Dr. David Katz, MD, MPH, director of Yale University's Prevention Research Center
Dr. Walter Willett, MD, DrPH, chair of nutrition at Harvard University
Dr. Andrew Weil, MD, director of the Arizona Center for Integrative Medicine
Gabrielle Bernstein, bestselling author and life coach
Susan Blum, MD, MPH, assistant clinical professor at Mount Sinai School of Medicine
Mark Hyman, MD, founder of The UltraWellness Center
Geneen Roth, bestselling author and expert on emotional eating
David Wolfe, raw food leader and nutrition expert
Marion Nestle, PhD, MPH, professor at New York University's Department of Nutrition, Food Studies, and Public Health
Mark Bittman, food writer for the New York Times and bestselling author
Joel Fuhrman, MD, family physician and leading expert on nutritional healing
and many other leading researchers and nutrition authorities
Learn more about My Approach to Wellness HERE and let me be your guide to Optimal Wellness.